The Bergen County Academies offers students a unique high school experience that combines comprehensive academics with technical and professional courses. We encourage our students to choose an academy concentration based upon their interests rather than a future career choice.
Pursue your passion for science, art, technology, music, theatre, cooking, design, or finance-our programs will allow you to explore your interest while preparing you to meet the academic challenge of college. You may complement your studies with electives and clubs that cross academy boundaries; you are not limited to study in just one field. Students receive a fine academic background that prepares them well for postsecondary study in any field they choose.
The Bergen County Academies includes seven specialized high school programs; each emphasis is a different career path. Our graduates attend a wide range of universities and colleges throughout the nation and abroad.
There are many opportunities for a student in one academy to interact with students from another. Students participate in interdisciplinary and class-wide projects as they take math, humanities, and world language courses together. Students can take part in independent study, numerous academic and skills competitions, cultural travel, and college residency experiences. Sports programs and after school activities supplement Academies life. Finally, to connect with the world of work, each student participates in an internship for academic credit during his or her senior year.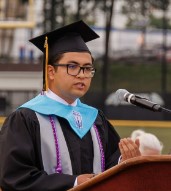 "To the Class of 2022, remember this story; It's one that will be part of history, our history - the tale of bright minds that came to succeed. An experience defined by strength, triumph, and hope. Keep learning, keep growing, keep striving to be better. Aspire to inspire others in all that you do."
Esai Jacobson, AEDT 2022
Designed and developed by Bergen County Academies students